While I am away, let's look back at 27th March 2007.

Following the earlier post on the visit to Matilda House LINK, I decided to move on towards exploring Seventeenth Avenue and Punggol Marina Country Club area (location 29). Click on the map below, one which I took almost 2 hours creating so that I do not infringe copyrights, to have a clearer picture.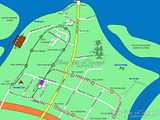 CLICK ON THUMBNAIL TO ENLARGE MAP

©mybearbrick 2007
Usage of this map is limited and please link back here.
By the time I was done at Matilda House, I already had my right shoe and socks wet from stepping into a puddle of water.
Who would have expected a puddle of water on a hot sunny day!?
I took a short toilet and water break at
Punggol MRT station
. The station is so dead empty that they decided not to turn on the airconditioning, but at least they had a functional toilet. I released some water and filled some up, disgustingly baked my wet socks under the hadn dryer. I need not worry about getting caught doing this digusting act as hardly anyone uses this toilet, as most commuters transit to the LRT lines without exiting the gantry.
I followed under the LRT line from Punggol MRT station towards
PW2 Teck Lee LRT
station. All the PW stations PW1 to PW7 are yet functional as of today. The only functional stations with LRT service are PE1 to PE5 as highlighted in the map as yellow circles instead of empty circles. PE5 is the nearest station to the drain (location 12). I walked on trimmed grass patches, pebbled grounds and crossed drains until I reach
Seventeenth Avenue
.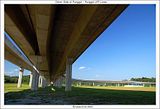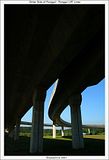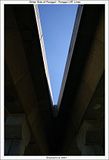 Tracks diverging towards Punggol East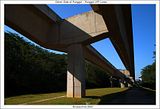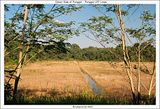 An open field on my right while heading north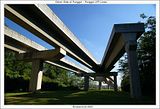 Abruptly ended track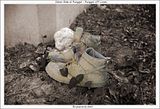 An abandoned pair of Nike


At Seventeenth Avenue, I heard sounds of cars drifting. I thought that there were some people playing R/C cars, but it doesn't sound like it. Moving on along Seventeenth Avenue, I came to a junction where there is a big plot of lalang field. There was an SUV, a photographer and a wedding couple. There are definitely some great shots available here.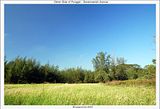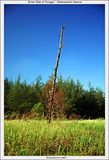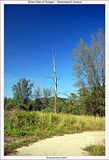 At the diversion, I headed north and came to a coastal region, which I named the 17th Ave Fishing Point, where there were lots of people doing casual fishing and even setting up a drive-in BBQ. When taking photographs here, I had to exercise caution not to get hooked by amateur or even veteran fishermen casting their lines.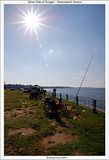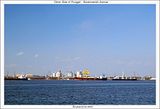 In the horizon, there seemed to be bustling with some commercial nautical-related activities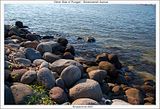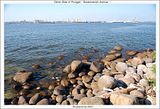 Boulders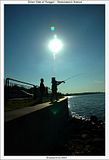 can you spot the bait and line in this image?
I headed back to the main road along Seventeenth Avenue and followed the hanging light bulbs that lined the both sides of the road, leading to
Punggol Marina Country Club
. By now, the screeching sound of tyres got louder and I was certain that there is some extreme motoring action going on here. A tent was set up and alongside some fast-paced music, drifting enthusiasts burn their rubbers in a small track, which happened to be the open carpark outside the country club, lined using cones. The cars would engage drifing turns and dashing through water puddles. At the end of every few rounds, the cars would stop and get their tires and exhaust cooled with a water hose. The whole atmosphere was exciting but not extremely intense, while the air stinked of burnt rubber.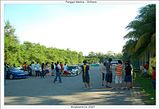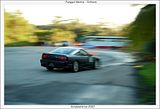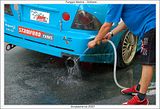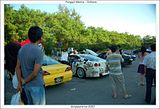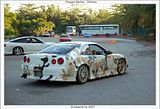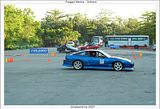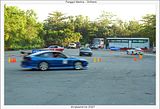 I would be glad to photoshop away car plates numbers, should there be any request.
CLICK HERE TO VIEW COMPLERE GALLERY or
VISIT URL: http://vaclav.multiply.com/photos/album/25

I stopped at Punggol Marina Country Club to get a pao and Coke Light, to replenish my exhaust body. It was almost sunset at 6.30pm. I could see the sun setting behind the trees in the distant, however, the sight at the pier was not fantastic. So after my break, I headed outside the country club and along the break water, I took some sunset shots.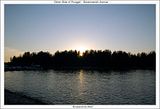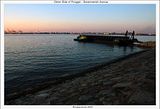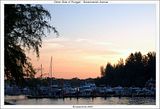 The sun sets out of sight behind the trees overlooking the pier at the country club
A tow-loading trailer anchored to the shore on my left

The sunset shots were not too fantastic for me at Punggol Marina and so I decided to walk back to the 17th Avenue fishing point. With my new Manfrotto tripod and IR remote setup, I took some sunset shots properly (finally!) and incidently, nexus who happened to be resting on the rails, became a rather interesting subject for the sunset shots.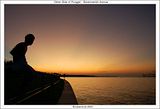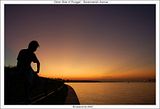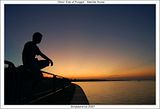 While swatting away the endless swarms of mosquitoes, nexus managed to sit still for quite a while, unstaged, for me to snap a few shot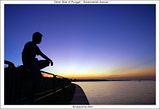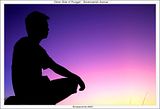 Un-staged, nexus became an interesting subject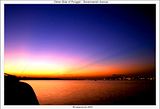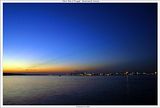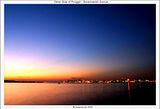 Playing with the colours in Photoshop generated various effects. Decide your favourite!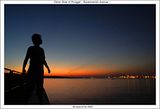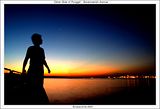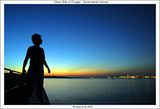 More colour tweaking of the same picture. Decide your favourite!
CLICK
HERE
TO VIEW MORE PICTURE IN THE COMPLERE GALLERY or
VISIT URL:
http://vaclav.multiply.com/photos/album/25

And so the sunset shots marked the end of the 25th of March shoot. The sky on that day was fantastic and never better, thus allowing me to really enjoy my shots. Sadly, my shots still suffered from vigenetting due to the Tian-Ya Circular Polarizer. I cannot do with a CPL.
Hope you enjoyed the pictures!

technorati tags