Monday, March 31, 2008
FRAULEIN REVOLTECH No.06 双海真美 (Futami Mami)
"THE IDOLM@STER" (アイドルマスター)
JUNE 2008


双海真美 (Futami Mami) is a character from the video game "
THE IDOLM@STER
" (アイドルマスター) by BANDAI NAMCO. Futami Mami is the younger twin sister of Futami Ami. Though younger, Mami is actually more matured than Ami. Nevertheless, both still enjoys teasing friends and doing impressions. Mami can be differentiated from her sister only by her hair style. Mami ties her hair to the left while Ami to the right.
In this FRAULEIN REVOLTECH No.06, the cute accessories are for cosplaying Mami. The regular version is in a black outfit, while the "R.T.F.S 限定" friendly shop limited version of Mami is the FRAULEIN REVOLTECH No.06fs 双海真美 (Futami Mami) Snow Strawberry Color (R.T.F.S 限定). Which do you prefer? ;p
No.06fs 双海真美 Snow Strawberry Color (R.T.F.S 限定)
@ 9:15 PM 0 RANTS & RAVES PLUGS TO THIS POST  

SYMPHONY
SARAH BRIGHTMAN
Since "Harem", I fell in love and started listening to this angelic voice of Sarah Brightman. I love those everlasting hits like "It's A Beautiful Day", "Free", "The War Is Over", "A Whiter Shade of Pale" and "Time to Say Goodbye". Here are the videos to my favourites for your listening and viewing pleasure.
Note: These songs are NOT in this latest album " Symphony".



"Beautiful Day" & "Free"


"The War is Over feat. Kadim Al Sahir" & "A Whiter Shade of Pale"


"Con Te PARTIRO/Time to Say Goodbye feat. Andrea Bocelli" & "Con Te PARTIRO/Time to Say Goodbye"

In this new album "Symphony", 12 completely new tracks are recorded in studio with an orchestra of musicians. It is indeed a highly anticipated album of beautiful songs with spectacular performance by Sarah Brightman. A truely remarkeable experience listening to this album in the night. The song "Symphony" is a lovely song that is worth 5 stars on your iPod, while "Sarah Qui" is Sarah Brightman's version to the famous song "There You'll Be" by Faith Hill in the movie soundtrack of "Pearl Harbour". Inside this album includes: Audio CD, Picture booklet, 3 post cards, A2 poster and EMI promotional flyers.




"Symphony" PREVIEW






"Sarah Brightman's Symphony, get it today and indulge yourself in the best female vocalist of our era!"
technorati tags
Sarah Brightman Symphony CD
@ 8:35 AM 2 RANTS & RAVES PLUGS TO THIS POST  

LABELS: Shopping
Sunday, March 30, 2008
Having visited
Togi Korean Restaurant
earlier for the
"Devil's Brew" Casserole
, I got addicted to the
authentic Korean cuisine
served by Togi. I decided to treat myself to a Korean dinner. This time, I went easy on the orders and chose something that is regular and simple,
Bulgogi Bibimbap
and
Kimchi Ramen
. Read on for my take on these dishes during my second visit at Togi Korean Restaurant (Mosque Street).

Togi Korean Restaurant
11 Mosque Street
Singapore 059491
Tel: 62210830
Email:
togi1004@yahoo.com

Closed on Sundays

Starters
The starters were slightly different during each visit, at least different from my
first visit
. This time, they served (from left to right) kimchi, chillied potato slices, leek?, chillied anchovies, chillied zucchini slices and chillied tofu cubes.

Bulgogi Bibimbap
Specially marinated and barbequed sliced beef, bulgogi beef, blended with soft fragrant rice and fresh green lettuce in a hotstone bowl. Diners can choose to have their bibimbap blended by the staff or by themselves. Each table has their bibimbap sauce for self-service. I had a bit too much making my rice a tad too sweet.

Kimchi Ramen
Nothing to spectacular or fanciful about this kimchi ramen. It it just the right level of spicyness in a tasty kimchi soup.

Verdict
If you are looking for good and authentic Korean meal,
Togi Korean Restaurant
is the place to visit. The prices here at Togi are reasonable and the friendly service is prompt despite an always crowded restaurant. During my second visit, I had simple regular Korean dishes instead of the
"Devil's Brew" Casserole
. I think this can possibly top my list in favourite Korean restaurants, replacing
Janchijib
and, a much adored
Seoul Yummy™
which topped my regular list as well. I will definitely and have been recommending Togi Korean Restaurant to my friends and readers. It is a
must visit
,
must try
!
@ 1:20 PM 0 RANTS & RAVES PLUGS TO THIS POST  

百变张韶涵世界巡迴演唱会
Live @ Taipei
张韶涵
Live Performance / Concert
I am such a huge fan of Angela 张韶涵. She has such a clear and wonderful voice and lovely big eyes. I would love to see her in person or live in performance. This DVD include performances in Taipei, which does not include new songs from album "ANG 5.0". Sadly, her first world tour concert here in Singapore has been postponed due to a heart condition. I hope she concentrate on getting well again. Anyway, at the meantime, I shall enjoy her live performance on DVD. The performance is spectacular, however, I was rather irritated by the poor editing where pictures were superimposed over the video. Nevertheless, still a good performance. Most importantly, it is Angela 张韶涵.

Overture –Dreaming
SONG 1:夢裡花
SONG 2:潘朵拉
SONG 3:都只因為你
SONG 4:真的+猜不透
SONG 5:手心的太陽
SONG 6:保護色
SONG 7:MAMA MAMA
SONG 8:如果的事(FEATHERING WITH范瑋琪)
SONG 9:一比一(范瑋琪)
SONG 10:不痛
SONG 11:口袋的天空
SONG12:JOURNEY
SONG 13:吶喊
SONG 14:C大調
SONG 15:靜不下來
SONG 16:快樂崇拜
Dream of childhood
SONG 17:尋寶
SONG 18:喜歡你沒道理
Dreams come true
SONG 19:隱形的翅膀
SONG 20:我的最愛
SONG 21:遺失的美好
Encore-Dream of fans
SONG 22:寓言
SONG 23:歐若拉

Angela 张韶涵 sings an English song "Journey"

@ 10:30 AM 2 RANTS & RAVES PLUGS TO THIS POST  

Saturday, March 29, 2008
it sure is worth it to rehash this earlier gallery of REVOLTECH No.009 EVA-03 Production Model.

EVA-03
参号機
Built in the United States by NERV Second Branch in Massachusetts, USA, Evangelion Unit 03 is one of two Units built with the Second Production Model design. It is the sister Unit of Unit 04. The United States' government insisted on having the rights to build Unit 03 and Unit 04. A few minor changes were made between the first and second Production Models. Unit 03's color was unique, with much darker plates than any other Eva. The head was oddly shaped, too, with a rounded top and exaggerated chin. The pilot assigned to it was Toji Suzuhara, but in transit to Japan, it was possessed by the thirteenth Angel, Bardiel, which appeared as a cloud. As Bardiel, it was savagely torn apart by Unit 01, after the control of Unit 01 was switched from Shinji to the Dummy Plug system, designed to simulate Rei Ayanami as the pilot. Toji, the pilot, is severely injured in the anime, but in the manga he actually dies.
(Story extracted from Wikipedia)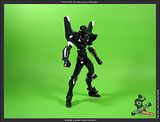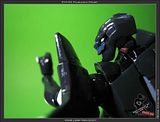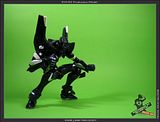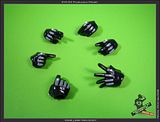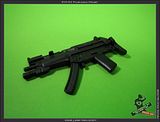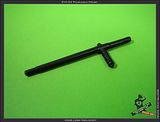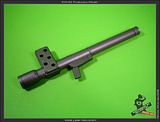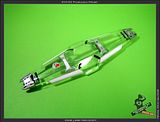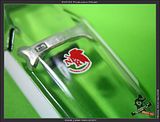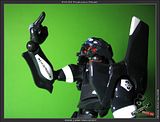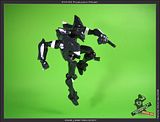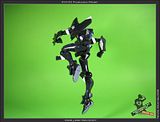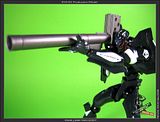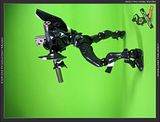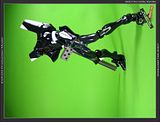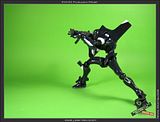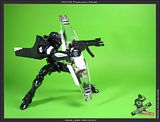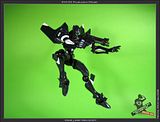 @ 12:45 AM 0 RANTS & RAVES PLUGS TO THIS POST