Hungry?
How 'bout quality western food at UNO Beef House?
Instead of trying out the famous beef steaks, why not try their comprehensive regular menu?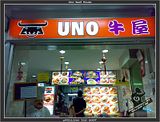 The original outlet is hidden among the tall HDB buildings in Toa Payoh. Surprising;y, the shop is capable of accommodating the hour-long queues (not as long as Botak Jones') even before being reviewed by Mediacorp's food scout programme.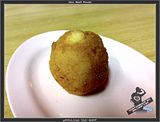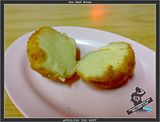 Apart from its beef steaks, it is also famous for the smallest side dish, so often neglected, the carbo, a small mashed potato ball fried to a crunchy golden brown with bread crumbs.
S$0.70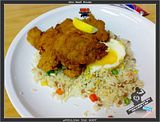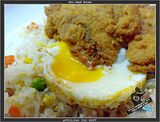 I had the fried rice with chicken cutlet. The juicy meat and crunchy cutlet crust won my vote! Moreover, I am a great fan of runny 'sunny side up' egg.
S$4.50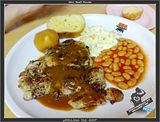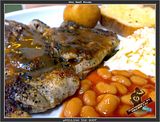 Who sasys regular black pepper chicken chop will be too ordinary? When it is tender and tasty without the nasty taste of rawness in the chicken, it is considered well-done! Can you really tell between a high-class restaurant's chicken chop and the one from UNO Beef House? I can't and I'm sure you can't!
S$5.00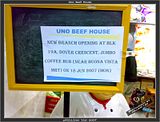 'Westerners' need no fret about spending more than the price of a chicken chop to get a taste of UNO Beef House, 'cos they just opened a new outlet at Jumbo Coffee Hub near Buona Vista MRT. Bollocks! That is where I usually have my lunch, which is near my workplace. Now I can get to have a few finger-lickin' good balls (potato balls, you sick rat)!