Another from my latest of the Revoltechs in my collection are the No.025 MEGATRON from Transformers. After today, EVA-02 (#026) and Eva-MP (#027, #027fs) will be collected. I had better get my gallery for MEGATRON up, before they start to build up as a form of backlog.

"Peace through tyranny!"

The ruthless leader of the Decepticon, Megatron bears a significant trademark, his arm-mounted fusion cannon, so powerful that no one can match. He can also link the cannon to a sub-dimensional black hole, generating even more powerful anti-matter blasts. However, this death move leaves him extremely weak and vulnerable.
He has a secondary barrel mounted on his back that can retract and replace his right hand with an energy flail. Megatron is known to fire electrical blasts from his hands, laser blasts from his eyes reprogram computers with a port in his head.
Megatron transforms into a Walther P38 pistol, although shrinking in size, but capable of delivering more focused energy blasts. This pistol state is then wielded by fellow Decepticon, usually Starscream (an ambitious subordinate who is famous for his betrayal on and off). Megatron can opt to transform without shrinking as well, and later attached to the underneath of Starscream (in plane mode), serving as a formidable blaster.

"Lesser creatures are the playthings of my will."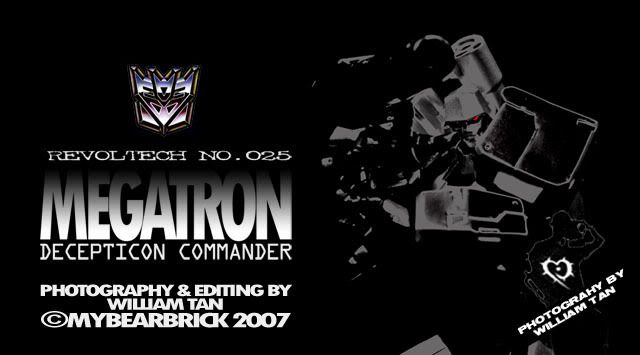 CLICK HERE OR BANNER ABOVE TO VIEW MORE PICTURES IN COMPLETE GALLERY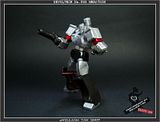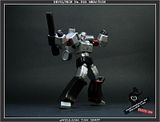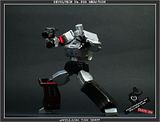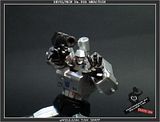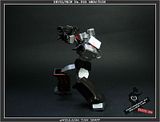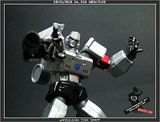 MEGATRON vs CONVOY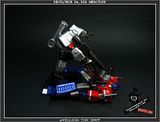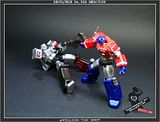 CLICK HERE OR BANNER ABOVE TO VIEW MORE PICTURES IN COMPLETE GALLERY

Revoltech
Toy
Kaiyodo
Megatron
Transformers
Decepticon